Uber Eats Customer Support for Restaurants and Drivers
Uber Eats provides customer support through the app and website. To contact support, you need to open the Uber Eats app or visit their official website.
Once you have gotten access to the app or website, click on the "Help" or "Get Help" button, and select the category and specific issue that concerns you.
Additionally, you can contact support via chat or email, or a Help Center with articles and FAQs.
If you are a restaurant using Uber Eats, you can select the "Restaurants" category, while drivers can select "Account and Payment Options".
Uber Eats customer support is made available to assist you with any issue concerning account and delivery.
Does Uber Have 24/7 Customer Service?
Does Uber have 24/7 customer service? Yes, Uber offers 24/7 customer service to its users. This includes both riders and drivers who may need assistance with their accounts, trips, payments, or other issues.
Uber makes provisions for customer support through the app, website, and phone.
The exact channels available for contacting customer service may vary by country or region, but in general, Uber aims to provide timely and effective support to its users whenever they need it.
READ ALSO:
How Do I Contact Uber Eats for a Refund?
There are two different means to contact Uber Eats for a refund: using the app on your mobile device or their browser website.
To get a refund using the Uber app, go to the order in question under the "Orders" tab at the bottom of the app.
Within the order, scroll to the bottom before clicking on "Get Help."
There, the app will take you to an Uber Eats customer support chatbot that will take you through the refund request procedure.
Getting a refund online is quite easy as well.
First, you have to contact Uber by navigating to Uber Eats Help, then click on "Help with an Order."
Select the order that applies to your case and then the issue at hand.
The website will ask you to sign in at some point as it directs you through the process, at which point it will connect you to the specific order in question.
How Do I Speak to Someone in Uber?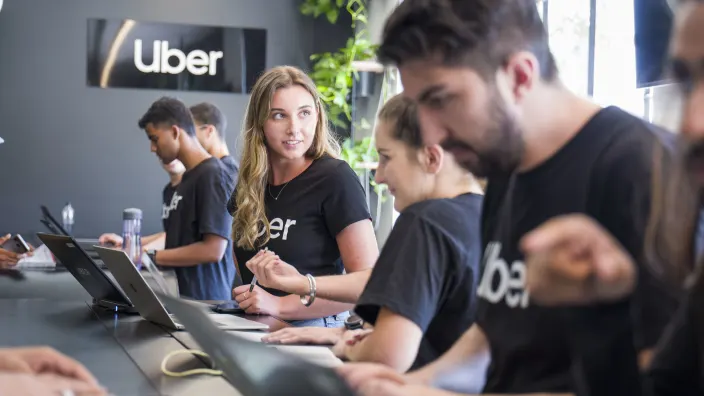 How do I Speak to someone in Uber? To contact someone in Uber you have to open the Uber app and tap on the menu icon in the top left corner, then tap on "Help."
From there, you can access the "Call Support" or "Chat Support" options. If you choose "Call Support," tap on "Call Support" again to initiate the call.
If you choose "Chat Support," type in your message and wait for a representative to respond. If you experience difficulty with a ride or driver, kindly report the issue through the app's "Report a safety issue" feature.
Why Can't I Call Uber Customer Service?
Why can't I call Uber customer service? The reasons are numerous. It's possible that you may experience difficulty calling Uber customer service for several reasons.
Firstly, Uber has been known to phase out traditional customer service phone support in favour of in-app support or other digital methods of contact.
Secondly, if there are long wait times or high call volumes, Uber may prioritize in-app support or other methods of contact to manage the demand for customer service inquiries.
In any case, you can still contact Uber through in-app support or other available methods of communication.
READ ALSO:
How Do I Email Uber Eats Support?
How do I email Uber Eats Support? Kindly find it out now. If you need to email Uber Eats support, you can follow these steps:
Open your email client or webmail service and create a new email.
In the subject line, briefly describe the issue you're experiencing.
In the body of the email, provide a detailed explanation of the issue you're experiencing, along with any relevant order or account information, such as the order number or your Uber Eats account email address.
Click send once you have finished composing the mail.
Why Won t Uber Eats Give Me a Refund?
Why won t Uber Eats give me a refund? There could be several reasons why Uber Eats is not giving you a refund. Some common reasons include:
1. The Refund Policy
Uber Eats has a refund policy that outlines when refunds are granted. If the reason for your refund request does not fall within the policy's guidelines, then Uber Eats may deny your request.
2. The Request was not Made Within the Refund Period
Uber Eats has a specific timeframe within which refund requests must be made. If you miss this period, then your request may be denied.
3. The Issue is Not Eligible for a Refund
Certain issues, such as late deliveries, missing or incorrect items, or quality issues, may be eligible for a refund.
However, other issues, such as a change of mind or dissatisfaction with the food, may not be eligible for a refund.
4. Insufficient Evidence
If you cannot provide sufficient evidence to support your refund request, such as photos of damaged or incorrect items, then Uber Eats may deny your request.
If you believe that your refund request has been wrongly denied, you can try contacting Uber Eats customer support through the app or email to explain your situation and see if they can assist you further.
How Long Does it Take Uber Eats to Refund Money?
How long does it take Uber Eats to refund money? The Uber Eats refund process can take anywhere from one to five business days before you see it reflected in your bank account from the time the refund is activated.
The wait time also depends on what bank you have as well. Some customers see their refunds in a matter of a few minutes.
The wait time for your refund varies greatly. That is why Uber Eats cannot assure you'll receive your refund within five days.
You can also check your weekly statement within the app to verify your refund. However, you might see it reflected in your bank account first, as the statement can be delayed for two weeks.
There are things you can do to try to fasten the process up, including cancelling the order. As earlier said, this should always be the first thing you try to do.
Then, follow up by rating your experience and calling the restaurant before calling customer support. It is also advisable to check your emails for confirmation that the refund process has begun.
It might be ideal to call customer service every day until you receive this confirmation email just to confirm that they initiated the process.
You can also contact your bank to see if the funds are there. Even if they are not available in your account yet, bank reps can see if the funds are processing or not.
What Happens if I Don't Get My Uber Eats Order?
What Happens if I Don't Get My Uber Eats Order? The simple reply to what happens if you don't get your Uber Eats order is that they will allow you to make a cancellation and make a refund directly through the payment you used.
If your order has not arrived, and you made a report, then Uber will send a strict warning to the driver who handled the delivery.
READ ALSO:
Does Uber Eats Refund if Order Never Arrived?
Does Uber Eats refund if order never arrived? Yes, Uber Eats does offer refunds if an order never arrived. In fact, the company has a dedicated support team that handles such issues and ensures that customers receive refunds in a timely and efficient manner.
If you are a customer who placed an order on Uber Eats and it never arrived, the first thing you should do is check your order status in the app.
If the status is still "Preparing" or "On the way", you can wait a little longer as the order may still be in transit.
However, if the status has changed to "Delivered" and you have not received your order, you can contact Uber Eats support for assistance.
To request a refund, follow these steps:
Open the Uber Eats app and go to the "Help" section by tapping on the profile icon in the bottom right corner of the screen.
Select the order that you did not receive and tap on "Issue with order."
Choose the option "My order never arrived."
Follow the prompts to provide more information about the issue and submit your request for a refund.
Once you have submitted your request, Uber Eats will review your claim and determine whether a refund is appropriate.
If the company finds that your order was never delivered, they will issue a full refund for the order, including any delivery fees or other charges.
It is worth noting that Uber Eats has a time limit for requesting refunds for orders that were never delivered.
Generally, you must submit your request within 24 hours of the expected delivery time. If you wait too long, Uber Eats may not be able to verify your claim and may not issue a refund.
In addition to refunds, Uber Eats may also offer compensation in the form of credits or vouchers for future orders.
This is done on a case-by-case basis, and the amount of compensation will depend on the circumstances of your order.
In summary, if your order never arrived on Uber Eats, you can request a refund through the app's "Help" section.
As long as you submit your request within the time limit and provide sufficient information to support your claim, Uber Eats will typically issue a refund for the full amount of the order.
Can I Get a Refund on My Uber Eats Subscription?
Can I get a refund on my Uber Eats subscription? Yes, getting a refund on your Uber Eats subscription is possible, specifically for the Uber Eats Pass subscription.
Uber Eats Pass is a monthly subscription service that offers benefits such as free delivery and discounts on orders.
If you have subscribed to Uber Eats Pass and want to cancel your it, you may be eligible for a refund.
To cancel your subscription or request a refund, contact Uber Eats support through the app or website.
Refunds are subject to Uber Eats' terms and conditions that vary depending on certain factors like location, etc.