Does Uber Eats Gift Card Pay for Delivery?
You may be wondering, how Does Uber eats gift card pay for delivery? To get the right answer to this question and a proper understanding on how to use Uber eats gift cards check the subsequent section to learn more.
Send an Uber gift card in minutes to the people you care about. The gift of Uber provides them reliable rides and meals from their favorite local restaurants.
You can add your gift card to your Uber Eats wallet and select it when paying for your order. While you can use a credit or debit card to pay for your meals via the app, you can also use Uber Eats gift cards to cover the costs. 
If you received  an Uber Eats gift card then you'll need to ensure you've downloaded the latest version of the Uber Eats app and that you're logged into your account.
Note that any gift card added to your account cannot be transferred to another user even if there is money left on it. Once added, it is tied to the account you loaded it on.  
Open the Uber Eats app. 
Click on the Account tab in the lower right-hand corner of your screen. 
Select the "Wallet" option. 
To use a gift card, you'll want to tap "Add payment method." 
Select "Gift card" from the list of options.  
Fill in the pin/gift code found in the text or email sent when you received your gift card. 
Select  "Add." 
When on your order's payment page, select Gift Card as your payment method.
Can You Use Uber Eats Gift Card for Delivery?
Yes, you can use an Uber Eats gift card for delivery on the Uber Eats app. Simply add the gift card to your account as a payment method and use it to pay for your delivery order.
Delivery services are looking for ways to loyalize customers with subscriptions, by offering good customer service and avoiding late delivery.
Freedom of choice. Every card can be used in both Uber and Uber Eats platforms, so there are lots of options for the receiver to choose from.
It can be used in all cities in the US where Uber is available and operates, It's equally  an easy way to send a gift when you cannot give it in person and It's also a convenient way to pay and a valid alternative to cash for purchases.
What Does an Uber Eats Gift Card Pay for?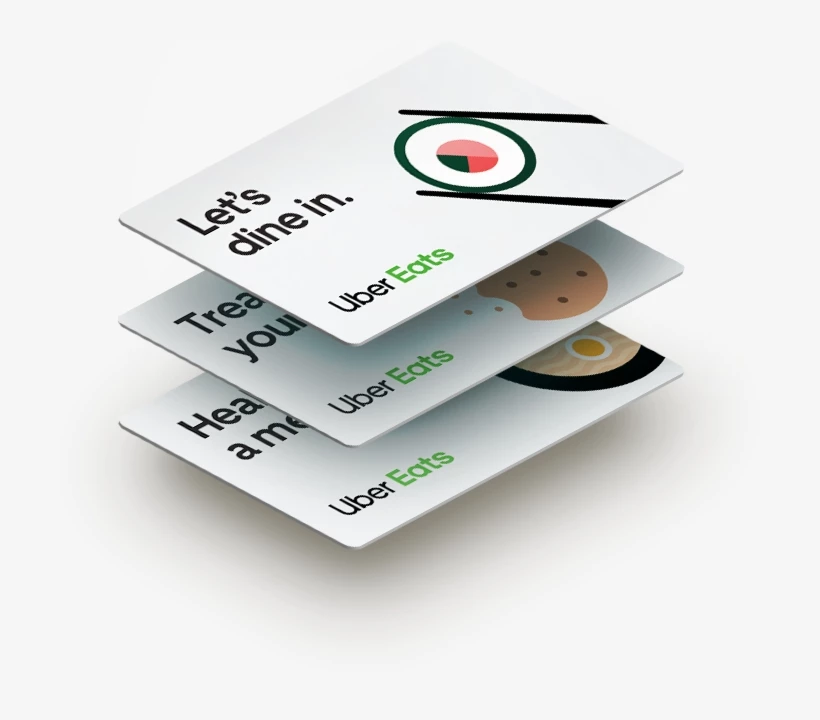 Uber Eats gift cards are a great food gift for friends and loved ones that are sure to provide good memories, whether they order food for themselves or put on a full spread for your next meetup.
You can use your Uber Eats Gift Card to add balance to your Uber Eats account to delivery your favorite food right away
An Uber Eat gift card can be used to pay for food and drinks ordered through the Uber Eats app or website, delivered by Uber Eats delivery partners.